In an escalating battle between the U.S. Securities and Exchange Commission (SEC) and Binance, the regulatory agency has sharply criticized the cryptocurrency exchange for its alleged non-cooperation in a recent investigation. Binance, one of the world's largest crypto trading platforms, stands accused by the SEC of showing a "lack of transparency."
The SEC's court filing dated Sept. 14 emphasized Binance US's holding company, BAM, producing only 220 documents throughout the discovery phase. Many of these were described as "unintelligible screenshots and documents without dates or signatures."
The SEC previously filed a lawsuit against the crypto exchange on June 5, slapping the company with 13 charges. These charges encompass breaches of U.S. securities laws, failure to prevent US investors from accessing Binance.com, and operating as an unregistered exchange, broker, and clearing agency.
SEC Tightens Grip On Binance
A significant point of contention lies around the exchange's use of Ceffu, a wallet custody software service owned by the international branch of the company, Binance Holdings Ltd. The SEC asserts that BAM's use of Ceffu might contravene an earlier agreement that intended for assets to remain "solely in BAM's custody and 'complete control' in the United States."
The regulator also highlighted possible discrepancies in BAM's remarks about Ceffu. BAM initially indicated that Ceffu's discovery was "unrelated to the current custody and control of Customer Assets," only to later affirm Ceffu's role in forming BAM's new crypto asset cold wallets and keys.
In a Sept. 12 filing, the exchange dismissed the SEC's apprehensions over Ceffu as "much ado about nothing," terming the demand for more documentation a "futile fishing expedition." Binance.US maintained that simply creating wallets via the Ceffu software doesn't necessarily grant the company's international branch access or custody over customer funds.
The SEC additionally accused BAM of refusing to produce crucial witnesses for deposition, yielding only to four depositions of witnesses deemed appropriate by them. The regulator also claimed that BAM responded with "blanket objections" when asked for relevant communications.
These allegations come at a challenging time for Binance US, which has recently witnessed a series of high-profile departures. This week saw the resignation of its CEO, Brian Shorder, the Chief Risk Officer, and the Head of Legal, adding to the already growing list of top executives exiting the company this year.
Renowned analyst Adam Cochran weighed in on the situation, remarking, "Damn. Even around the redacted part this is juicy." Cochran suggested that the SEC's focus on Ceffu might validate earlier speculation.
He added, "Binance US custodian was just Binance international and they lied to the courts." Cochran expressed particular concern about the "auditor's concerns," noting, "Binance US is so small that an auditor should have no issues or concerns with their books. And if they can't keep those books straight, imagine the mess of international."
At press time, the BNB price stood at $212.5, hovering above the crucial support.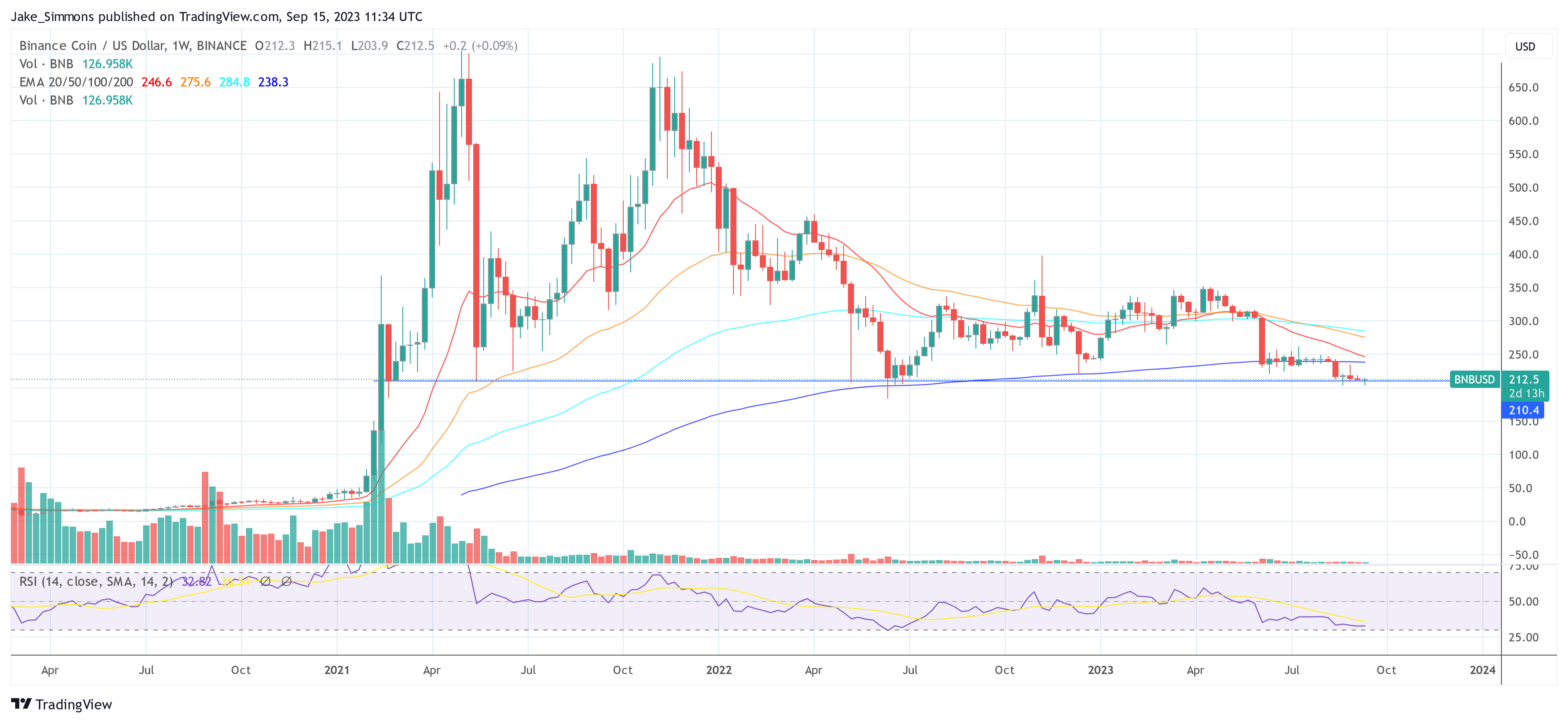 Featured image from X / Parad Finance, chart from TradingView.com
Credit: Source link