The Ethereum ecosystem has been witnessing a fascinating trend in recent times, as the number of Ethereum whales continues to rise. These astute investors, known for holding a significant portion of the total supply, have amassed 30.07 million Ethereum (ETH) worth over $9 billion in their wallets.
This surge in holdings marks a substantial increase from the 26.56 million ETH held at the beginning of the year. The accumulation of Ethereum by these whales not only reflects their confidence in the digital asset but also hints at an ongoing fervor surrounding the world's second-largest cryptocurrency by market capitalization.
Ethereum Whales And Their Growing Holdings
The growing number of Ethereum whales signals a notable rise in the holdings of addresses that possess over 0.1% of the total supply. IntoTheBlock, an on-chain analytics firm has shed light on this trend, revealing the enthusiastic accumulation of ETH by these distinguished market participants.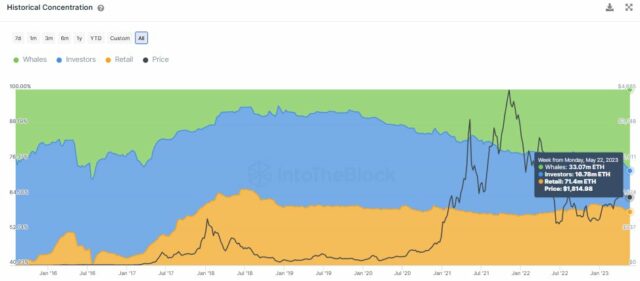 Such accumulation is likely driven by various factors, including the increasing popularity of Ethereum's Proof of Stake (PoS) consensus mechanism. 
With Ethereum's transition from the energy-intensive Proof of Work (PoW) model to PoS, many ETH holders have been motivated to acquire additional tokens to stake and participate as validators.
It is worth noting that even Ethereum staking deposits have witnessed a significant uptick since the launch of the highly anticipated Shanghai upgrade, which introduced key enhancements to the Ethereum network such as the enablement of staked ETH.
Diverse Behavior Among Ethereum Holders
While Ethereum whales continue to amass ETH, it is worth it to observe the different behaviors exhibited by various categories of Ethereum holders. Over the past 30 days, long-term holders, affectionately known as hodlers, have increased their holdings by 4.54%.
This group of steadfast investors has demonstrated unwavering faith in Ethereum's long-term potential. On the other hand, midterm holders, or cruisers, experienced a marginal decrease in their balances by 0.38%, while short-term holders, or traders, saw a significant decrease of 17.5%.
It is worth noting that the majority of Ethereum addresses belong to smaller holders, referred to as shrimps, who possess less than 0.1 ETH.
At the opposite end of the spectrum, institutional investors and large Ethereum whales hold substantial influence over the market. The addresses holding between 1,000 and 100,000 ETH command a significant portion of the coin's total supply, which currently amounts to an estimated value of approximately $70.09 billion.
Their strategic accumulation and extensive holdings underscore the significant impact these entities have on the Ethereum market dynamics, as their moves can sway prices and shape the overall sentiment.
Meanwhile, regardless of the accumulation of ETH from whales, ETH has been a blend of bulls and bears over the past week. Particularly, the asset has only surged 0.7% over this period with a daily trading volume ranging between $3 billion and $6 billion.
In the past 24 hours, ETH has continued in a downward trend down by nearly 1% with a market price trading at $1,827, at the time of writing. Ethereum currently has a 24-hour trading volume sitting at $4.1 billion and a market capitalization above $200 billion.
-Featured image from Unsplash, Chart from TradingView
Credit: Source link