Enabling local payment methods in Philippines: How Transak eases crypto purchases with GCash and Maya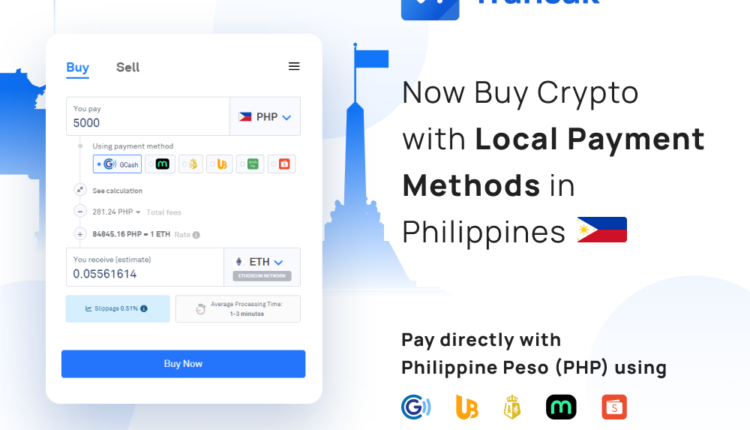 In 2021, 2CP2P conducted an independent research and found that GCash and Maya together comprised about 90% of the total digital payment method market in the Philippines. At the time, over 11 million residents in the Philippines reported owning and regularly using crypto, bringing the country to top 10 for cryptocurrency adoption. Despite the popularity of cryptocurrency in the region, the experience of making onboarding and buying crypto comes with multiple challenges.
First, most purchases in the region took place via the traditional P2P method which leads to longer processing times and weaker security for both parties. Second, there was no developed infrastructure to make crypto purchases easier and directly with fiat. These two problems were the key motivations for Transak, a leading Web3 onboarding infrastructure provider, to expand to the Philippines market.
Just a few weeks ago, Transak launched local payment methods in the Philippines by adding GCash and Maya payment methods to their infrastructure. Their solution is available equally to individual users and Web3 platforms interested in expanding to Southeast Asia. Web3 platforms can integrate Transak's fiat on-ramp widget in their apps and expand to new regions while users can buy crypto directly with PHP (Philippine Peso) and pay with GCash, Maya, GrabPay, BPI, Union Bank, ShopeePay, or debit/credit cards.
Transak is already integrated with MetaMask, Coinbase Wallet, Trust Wallet, BitYard, Decentraland, Zed. run, Splinterlands, and many more leading Web3 apps looking to expand to new regions. Through these partnerships, Transak helps Web3 companies to expand into more regions, saving time and resources for development.
The company is well set to enabling more local payment methods in the South East Asia (SEA) area. Back in July 2022, Transak also started facilitating local payment methods in Thailand. Since their recent expansion to the Philippines, Transak has become the only fiat-on-ramp in the region with so many local payment methods and the fiat-on-ramp with the most payment methods in the world.
Backed by Animoca Brands, Transak also looks to support more Play to Earn (P2E) projects and ease end-user onboarding to Web3. It is no surprise the provider is pushing to make Web3 more accessible across South East Asia. The gaming industry continues to grow despite the crypto winter while SEA presents a market with an increasing crypto adoption and fast growth of P2E projects.
Disclaimer: This article is provided for informational purposes only. It is not offered or intended to be used as legal, tax, investment, financial, or other advice.
Recommended Videos:
ISO 20022 Crypto List – 5 Compliant Coins (XRP, XLM, XDC, ALGO, IOTA)
XRP (Ripple) – 10 Things you must know before Investing in XRP
XLM – What Makes Stellar Lumens Unique? Moneygram Partnership And Much More
XDC – XinFin Network – Everything You Must Know Before Investing
Algorand (ALGO) – 7 Reasons Why Algorand Is A Revolutionary New Blockchain Technology!
HBAR (Hedera Hashgraph) What Makes Hedera Unique? Is HBAR Undervalued? HBAR Explained!